Aldersgate Weekday School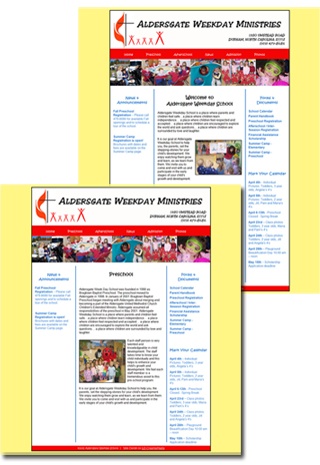 Aldersgate Weekday School  offers a Preschool program as well as After-school  and Inter-session programs for elementary aged children. The programs are designed to provide a safe and learning environment while helping the children they serve grow and learn.
Located in Aldersgate United Methodist Church, in Durham North Carolina, Aldersgate Weekday School provides a Christian Community where children can grow spiritually as well.
LD CreativeMedia began working with Aldersgate Weekday School in the Summer of 2011. The school had a website, but it was dated and needed a fresh new look.
The new website features bright and cheery colors and is regularly updated with school news, a schedule of upcoming events and other important information for parents and other visitors to the site.
Visit the Aldersgate Weekday School website.