Rags to Riches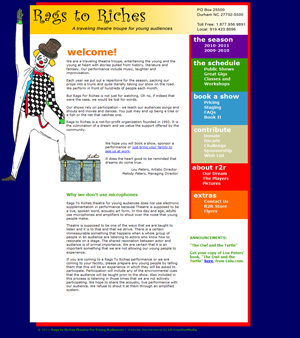 Rags to Riches Theatre for Young Audiences is a traveling troupe based in Durham, NC that entertains the young and young at heart with familiar and some not so familiar tales.
LD CreativeMedia began working with Rags to Riches in 2008. They had a website but they needed help with maintenance.
Design updates have included a new navigation column and a new photo slideshow using Flash. New information is posted monthly including performance schedules and course offerings.
Visit the live site for Rags to Riches.