RGG Architects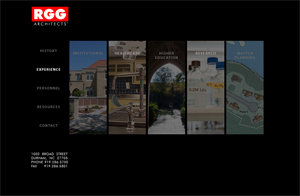 RGG Architects is an architectural firm located in Durham, North Carolina. This website highlights the firm's experience with medical, institutional and educational projects.
LD CreativeMedia began working with RGG in 2007. At that time, RGG had a website that needed a new look. They wanted to focus on some of their more recent projects. LD CreativeMedia worked with the staff of RGG to develop the current design.
Visit the live site for RGG Architects.