Web Design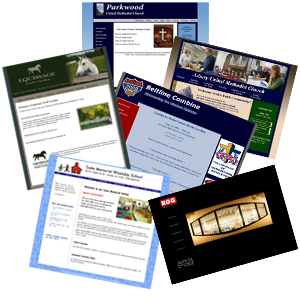 Having a website is so important in today's world. Can you remember the last time you used a phonebook to look up a phone number or address for a business
It is also important for that website to be optimized for viewing in all screen sizes. Did you know that search results in Google are impacted by whether or not your website is mobile-friendly?
LD CreativeMedia will become your web design and development partner and create the web presence that translates your vision and purpose into a user friendly, online experience that speaks to your audience. Each website is responsively designed, mobile friendly, and tested in currently used web browsers.
How to Get Started
You need a web domain. A web domain is your online address. If you need help, we're here for you. LD CreativeMedia can help you choose and register your domain with a registrar service.

Note: There is an annual fee for web domain registration. Occasionally you can find discounts through a web hosting company or other registrar but typically you need to budget about $15 per year for domain registration.

You need a hosting plan. LD CreativeMedia does not offer web hosting as a service  but we can help you get this setup with one of the hosting companies we use.

Hosting companies offer several levels of options in their hosting packages. You may pay less if you make a long term commitment but you also want to be sure you don't rush to over commit to a package you may not like.
While hosting packages vary in price depending on the company you choose to use, a small business or individual should budget about $100 or more per year for a web hosting package.

Start brainstorming about what you want and need from your website.

What will your audience be looking for when they visit your website?
Do you have a logo?
Are there colors that are significant to your brand?

If you haven't already, contact LD CreativeMedia now!